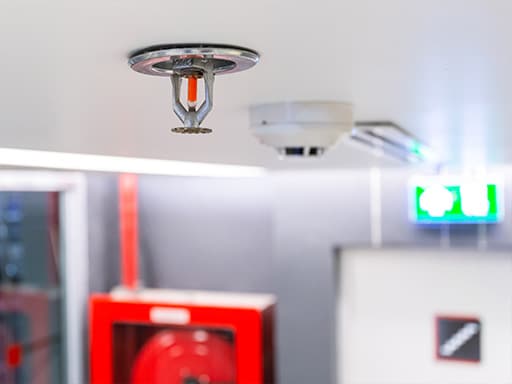 Top Security & Fire Technologies for Commercial Warehouses
Companies everywhere depend on warehouses to store valuable goods and materials necessary to conduct business. As hubs of commerce, warehouses are vulnerable to threats such as fire, theft, and vandalism. Because of this, it is crucial to work with industry experts to attain the right mix of modern security and fire technologies.
Protect What Matters
No matter the industry, warehouses are home to costly inventory, machinery, information, and other assets needed to keep the business running. Because they are items of some value, they are highly susceptible to theft. Fire is another serious risk that companies with warehouses will need to mitigate. 
Security Technologies for Warehouses
Intrusion Alarms
High-caliber intrusion detection systems work to detect intrusion both inside and outside. When used as part of an integrated security solution, an intrusion alarm system detects things like motion or breaking glass and sends alerts to the alarm panel. This alert triggers other actions such as a siren, strobe, or silent alarm. If connected to professional monitoring, it may trigger an emergency response. 
An Electronic Physical Access Control System (PACS) is a collection of security technologies and electronic systems that facilitate automated access to authorized individuals to controlled areas of a warehouse by presenting some form of credentials, such as a code or key card, or fob.
Video Surveillance
With a comprehensive video surveillance system indoors and outdoors, you can detect and identify unauthorized individuals or undesirable activity and be aware of activities that may be health or safety hazards.
Fire Safety Technologies for Warehouses
NFPA research shows that warehouse fires frequently happen, with an average of 1,410 warehouse fires, two deaths, 20 injuries, and an estimated $159.4 million in direct property damage annually. To keep your facility safe, consider these technologies. 
Smoke and Fire Detection and Alarms
The best way to limit fire damage is through early detection. Fire detection and alarm systems provide early warning and trigger other fire systems, such as fire sprinkler systems. 
Fire Sprinkler Systems
The most effective way of extinguishing a warehouse fire is a modern fire sprinkler system. 
BI-Directional Amplifiers
Bi-directional amplifiers will ensure that your warehouse has adequate radio coverage for emergency responders. A BDA system will enable you to meet two-way radio communication requirements and lessen radio "dead zones" in your warehouse.
Need more information? Call ESI Today at 281-385-5300
ESI Fire & Security Protection is backed by over 20 years of industry experience. It provides complete security and fire protection services for businesses, organizations, government buildings, and restaurants throughout Houston and its surrounding areas.