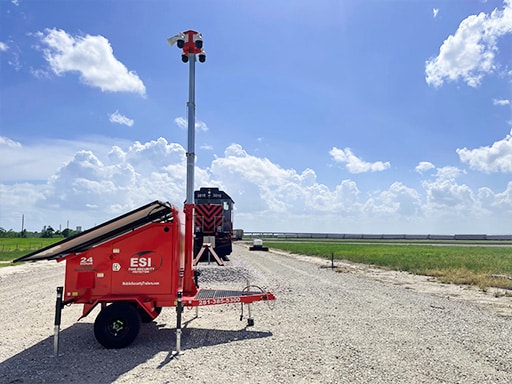 Top Industries that Can Benefit from Commercial Security Mobile Video Surveillance Trailers
Video surveillance systems are an essential component of commercial security systems and are valuable in reducing crime and identifying problems before they escalate to crimes. Until recently, these systems were only available in fixed wired or wireless options. Today, with the advancement of security and AI technologies, solar, and wifi communications, video surveillance systems are also available as a mobile surveillance option– Mobile Security Trailers, also called Mobile Video Surveillance Trailers. 
What are Mobile Security Trailers? 
Mobile Security Trailers are small, portable, towable, autonomous video surveillance units used for short-term or long-term site security. The self-contained units feature advanced video surveillance cameras in durable weatherproof housing affixed to a telescoping pole. These systems may include things such as thermal imaging, LPC, 24/7 recording, live monitoring, and audio intervention. Mobile Security Trailers are a cost-effective commercial video surveillance solution.             
What Industries Benefit From Using Mobile Security Trailers? 
Mobile Security Trailers are most beneficial used in places where fixed cameras can not cover, there's a need for security guards, or the area is dark, remote, or vast. Because they are portable, they are also beneficial for use at events or to move around sites where the security needs are frequently changing. 
Here are a few examples of industries using the technology to protect their assets, prevent crime, and improve visibility.
Construction Sites and Equipment Yards 
Construction sites are a prime target for thieves due to the large number of materials stored on site. Equipment and equipment parts are also highly susceptible to being stolen. Mobile Security Trailers provide 24/7 security and visibility over the site.
Car and Other Dealerships 
While most cars, trucks, vans, and other vehicles are stolen from the streets, it is not uncommon for organized thieves to target dealerships. Mobile Security Trailers with live video monitoring can spot suspicious activity and provide live intervention before unwanted activity escalates to a crime. 
Schools
Many schools are now implementing Mobile Security Trailers on campus to provide extra visibility and criminal deterrence. 
Churches and Other Places of Worship
Mobile Security Trailers provide increased visibility on church campuses and help decrease theft, vandalism, and violence. 
Equipment Yards Storage Yards, Warehouses
Equipment and storage yards and warehouses all keep thousands of dollars in equipment and supplies onsite, are generally located in more remote and less traveled locations, and are notoriously difficult to protect. 
Utility Infrastructure
Substations, cell towers, and other infrastructures used for public facilities are often remote and unmanned. Mobile Security Trailers prevent malevolent tampering, theft,  and vandalism.  
Agriculture
Agriculture sites are vast and difficult to inspect and protect. They are also home to valuable livestock, expensive equipment, and even areas that may be dangerous, such as irrigation ponds. The agriculture industry uses this technology to monitor livestock and prevent trespassing, illegal dumping, theft, tampering, and other illegal activities. 
Events
Mobile Security Trailers are an ideal commercial security option for events such as fairs and other public gatherings. Since they are mobile and autonomous, they can be placed where needed for as long as needed. 
Need more information? Call ESI Today at 281-385-5300
ESI Fire & Security Protection is backed by over 20 years of industry experience. It provides complete security and fire protection services for businesses, organizations, government buildings, and restaurants throughout Houston and its surrounding areas.