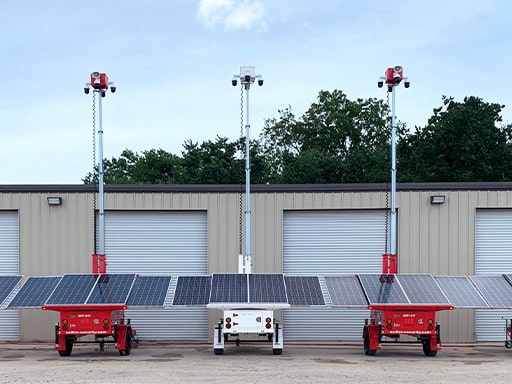 Top Ways to Boost Job Site Safety
No matter the size of the project, the reality is that most construction job sites are extremely dangerous. To give you an idea, in 2019, the U.S. Bureau of Labor Statistics reported over 5,000 fatal work-related accidents in the country.
Reducing Injuries and fatalities is reason enough to implement technologies that can help increase safety, but there are other important reasons as well. 
Construction site safety is also a vital part of finishing projects on or under budget. Downtime is costly, as is finding replacement workers when someone cannot do their job after an accident. Worker's compensation claims and lawsuits can drive up insurance costs. Focusing on safety helps keep projects on time and on budget. 
To improve construction site security, employers and construction managers must recognize and control hazards to protect their employees' safety and welfare. One of the best ways to do that is to have complete visibility using ESI's Mobile Security Trailers.
5 Ways Mobile Security Trailers Can Improve Jobsite Safety
Here are some top ways mobile video surveillance trailers and professional monitoring can help improve job site safety. 
Identify Potential Hazards
A video surveillance system can help you monitor the site and identify hazards such as uncovered ditches, unsecured materials, etc. The sooner hazards can be identified, the sooner they can be corrected before anyone becomes injured 
Ensures Compliance
Construction is a heavily regulated industry with laws surrounding every facet. To make matters even more complex, some jobs are completed over months or years and include many different teams and subcontractors with whom the superintendent may not be familiar. Ensuring that everyone involved is following regulations requires having an eye on every worker at all times. Mobile Security Trailers can be positioned where needed so that you can have complete visibility at all times. 
Aids in Investigation
The use of video surveillance and monitoring technologies can provide vital information in an accident investigation. Recorded images can and video can determine what led up to the event and what should happen to prevent a similar event from happening in the future. 
Provides Insights
Having video of what transpires on-site can help in identifying practices that lead to hazards. This can aid in developing better training programs.
Promotes Safe Behaviors
It is not uncommon for workers to cut corners, get lax, and not observe safety protocols when they are not being watched directly. This leads to many of the accidents that happen on a job site. Mobile Security Trailers help solve this problem because employees make better choices when they know that their actions are being watched. 
Reducing risks is a significant concern for any construction site. Remote Video Monitoring provides a highly effective way to do precisely that. 
Need more information? Call ESI Today at 281-385-5300
ESI Fire & Security Protection is backed by over 20 years of industry experience. It provides complete security and fire protection services for businesses, organizations, government buildings, and restaurants throughout Houston and its surrounding areas.