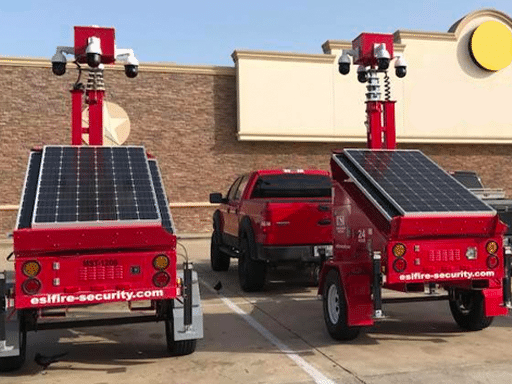 Mobile Security Trailers Can Be Key to Your Security Program
Video surveillance
has rapidly become the pillar of many security programs because of its effectiveness and flexibility. However, there are many locations, businesses, and industries where a fixed video surveillance system is just not enough.
This is often because of challenging circumstances such as an expansive or remote outdoor location, such as car lots, transportation, utilities, or telecom sites. For temporary sites, such as construction sites, fixed video surveillance is often cost-prohibitive or impossible due to insufficient power sources.
Until recently, the only option for reducing risks and protecting such sites was to use security guards and patrols. Today, with the advances in Proactive Video Monitoring (PVM) which provides live situational awareness through virtual on-premises video to detect and prevent incidents, it is possible to safeguard sites actively and improve security with Mobile Security Trailers. This approach to risk mitigation is ideal for mission-critical physical infrastructure that requires specialized support to reduce liabilities and maintain compliance.
What is a Mobile Security Trailer?
ESI's Mobile Security Trailers (MST) are a self-contained mobile video surveillance solution. These units are mobile, rapidly deployed, and autonomous-powered. Features includes 4 PTZ's mounted on a mast which can be raised between 10 and 30-feet high and includes 24/7 Proactive Video Monitoring with real-time Voice-down intervention. ESI MST's are now an "American Made" cost-effective solution for short-term or long-term security for any outdoor environment.
How Can Mobile Security Benefit Your Business?
Mobile Security Trailers provide reliable 24/7/365 live security
. Unlike traditional guards, mobile security trailers are not subject to the dangers of remote or outdoor locations, such as the threat of violence. Additionally, the intervention specialists are not subject to the common problems of onsite guards, such as inattentiveness or coercion.
Because ESI MST's use AI-based, Intelligent Alarm Learning Technology and are backed by a team of highly experienced Intervention Specialists, response times are effectively increased, and false and nuisance alarms are eliminated.
Since they do not have any infrastructure requirements, MST's can be rapidly deployed and quickly meet your changing security needs. Features such as no/low light video surveillance cameras can increase your visibility beyond human capabilities. This can increase your security while decreasing reliance on less effective options.
Top Advantages of ESI Mobile Security Trailers
The top advantages of mobile security trailers include:
Ability to use in remote locations
Live and Recorded view of streaming video
Professional Proactive Video Monitoring
AI-Powered Video Analytics
Increased Response Times while Eliminating False Alarms
Live Voice-down capability
Solar and battery-powered with optional generator backup
Cost-effective
Live security guards can only see what is in their field of vision. ESI Mobile Security Trailers monitor an entire site at once. It's a cost-effective solution to make patrons and employees feel safer, potential perpetrators uneasy, and improve the response time of police in case of an emergency.
About ESI
Serving Houston, Austin, San Antonio, and surrounding areas,
ESI Fire & Security
has been the area's leading fire and business security provider for over 20 years. For more information about ESI solutions
,
 Call Us Today! (281)-385-5300