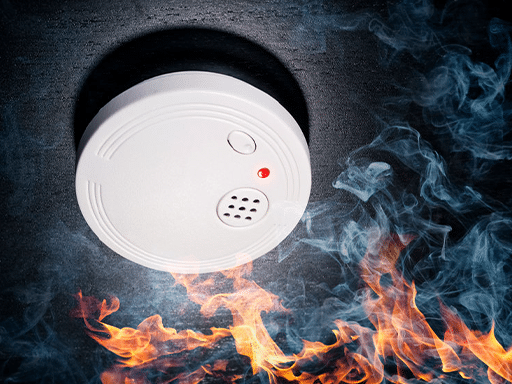 ESI's 8 Keys to Commercial Fire Prevention
In 1922, the National Fire Protection Association (NFPA) named the second week in October Fire Prevention Week to commemorate the Great Chicago Fire of 1871. Today, we mark the event by spreading fire safety awareness. While fire safety, technologies, and practices have come a long way since that time, still over 100,000 commercial fires occur annually. Most of these fire events could have been prevented. To honor this year's October 3-9 event, we are covering our most important fire prevention tips.
Commercial Fire Statistics
Fortunately, the frequency of commercial fires has decreased slightly over recent years. However, the resulting cost of fire damages has increased dramatically. Studies show that fires at commercial properties cost owners over 2.4 billion dollars per year.
Cooking causes 30.4% of office fires, 50% of hotel and motel fires, and 61% of restaurant fires.
Electrical malfunctions cause 18% of warehouse fires.
95 deaths and 1,200 injuries occur each year from business fires.
31% of office fires occur between 7 pm, and 7 am but cause 67% of property damage.
Actionable Commercial Fire Prevention Tips
One of the biggest mistakes most commercial facilities make is assuming their facility will never be subject to fire and treat it as something that happens to "other" businesses on the news. While nobody wants to think about the possibilities of a catastrophic event, failure to actively prevent fires is one of the most significant contributors to causing them. Even if you are familiar with prevention practices, take time to review these top commercial fire prevention tips.
Adhere to OSHA and NFP Guidelines
Both OSHA and the NFPA have strict guidelines in place to prevent fire in the commercial setting. It is necessary to meet all requirements to stay compliant and keep your facility and employees safe.
Store Chemicals Properly
Store all chemicals, hazardous materials, and flammable substances properly and according to all applicable codes. Storage areas should have proper ventilation, be free of heat sources, and have fire extinguishers nearby.
Keep a Clean Environment
Keep the facility free of clutter and debris. Dispose of all boxes and packaging promptly as cardboard and plastics can easily catch fire and cause it to spread quickly.
Keep Machinery in Proper Order
Schedule regular maintenance for all machinery and equipment to prevent friction and overheating and ensure it is safe working order at all times.
Practice Kitchen Safety
Whether it is a commercial kitchen or a break room, ensure all employees practice kitchen safety. Keep the kitchen clean and appliances in good repair.
Install Fire Detection and Prevention Technologies
Have Designated Smoking Areas
Every commercial property should have a designated smoking area outdoors and away from any fire hazards. Provide ashtrays and safe ways for smokers to extinguish their cigarettes.
Have Proper Security
Fires started by trespassers, whether intentionally or unintentionally, account for many fires every year. Equip your facility with the proper security technologies to prevent intrusion and detect dangerous behaviors. This might include intrusion detection, video surveillance, and proactive video monitoring, among other security measures.
About ESI