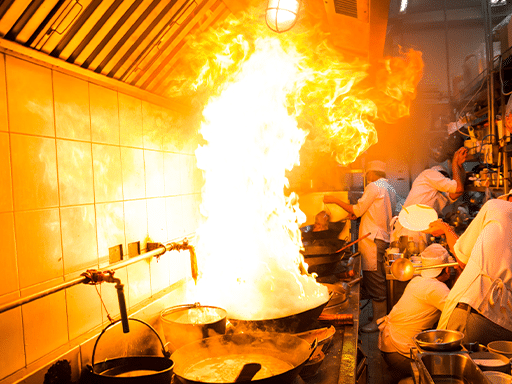 Texas Commercial Kitchen Fire Protection Guide
For the purpose of this blog, we will be talking about Commercial Kitchen Fire Protection as it relates to dine-in restaurants with full kitchen capabilities that are assembly occupancies (with an occupancy load of 50 or more persons). The concepts relate to any Texas commercial kitchen, however.
What is Commercial Kitchen Fire Protection?
Commercial Kitchen Fire Protection
consists of the main or minimum elements required by the National Fire Protection Association (NFPA) to ensure occupants' reasonable degree of safety through preventative and safety measures and fire protection equipment.
These elements include:
Kitchen Fire Suppression Systems
Ventilation Systems
Portable Fire Extinguishers
Early Warning Alarm Systems and Monitoring
Means of Egress
What is the Importance of Commercial Kitchen Fire Protection?
Commercial kitchens pose one of the greatest risks for fires. Kitchens use industrial, high-heat equipment that often comes into contact with cooking oils and grease, which present a significant fire hazard. The 
U.S Fire Administration
 and the 
NFPA
 report that cooking equipment causes over 50% of fires in eating and drinking establishments. These fires result in an average of 110 civilian injuries and $165 million in direct property damage each year.
A kitchen equipped with suitable commercial fire suppression systems can reduce fire potential by nearly 60%.
What Are Kitchen Suppression Systems?
Kitchen Fire Suppression Systems are highly effective and localized fire containment systems used to extinguish kitchen fires at the source and prevent the fire from spreading. Nozzles are affixed above the cooking area and within the kitchen hood exhaust system. When a fire is detected, the system will automatically or manually deploy wet chemicals directly over the cooking area and fie source, depriving the fire of oxygen and extinguishing the fire.
It requires:
Fire suppression nozzles must be installed in all hoods and ducts and above each piece of cooking equipment
Manual pull station located in the kitchen to activate the fire alarm and automatic shut-offs to the energy sources to all appliances, whether electrical or gas-fired
Ventilation Systems For Houston Commercial Kitchens
Commercial Kitchen Ventilation Systems are the hub of the interior exhaust system. It consists of ventilation hoods that sit over the cooking area to catch smoke and debris formed in the cooking process. It also houses components of the suppression system. Commercial kitchen ventilation systems must meet the requirements found in 
The NFPA 96
guide, which includes minimum exhaust rates depending on the type of appliance and hood and inspection and cleaning schedules.
Portable Fire Extinguishers for Commercial Kitchens
Portable fire extinguishers are another type of commercial kitchen fire protection required by NFPA 96 and 
NFPA 10, Standard for Portable Fire Extinguishers
. There are several different types of commercial fire extinguishers designed to put out specific types of fires. Commercial kitchens require Class K fire extinguishers are designed to put out fires involving fats, grease, and oils burning at high temperatures.
Early Warning Alarm Systems and Monitoring for Commercial Kitchens
The
NFPA Life Safety Code
 covers providing maximum notice and egress in a fire emergency. It includes a general requirement that if the restaurant is situated to prohibit adequate warning to all occupants, it must have a fire alarm system installed. The code requires all restaurants with an occupancy load of 300 or more have a fire alarm system installed. In restaurants where required, the systems must include an audible and visible alarm (strobing lights), and alarm signals must be transmitted to a location providing constant monitoring during service hours (professional alarm monitoring).
What are the Requirements for Means of Egress in Restaurants?
The NFPA Life Safety Code provides detailed requirements regarding means of egress.
A means of egress is an unobstructed path to leave buildings, structures, and spaces. A means of egress is comprised of exit access, exit, and exit discharge. Many requirements are specific to features of a particular business, such as type of construction and location.
Some of the basic requirements of egress include:
At least two means of egress in every building
Egress points must be situated in a way that they not be rendered impassible (such as by crowding) in an emergency condition
The ability to exit through bathrooms, storerooms, kitchens or other areas not generally accessed by patrons is not considered a permitted means of egress
They must be unobstructed at all times
Exits must be clearly marked
Any device or alarm installed to restrict the improper use of a means of egress (e.g., a panic bar) must be installed in such a way to ensure that it cannot, even in case of failure, impede or prevent egress in an emergency.
Industry Resources for Your Research: 
About ESI
Serving Houston, Austin, San Antonio, and surrounding areas, ESI has been the area's leading fire and business security provider for over 20 years. For more information about ESI solutions
,
 Call Us Today! (281)-385-5300