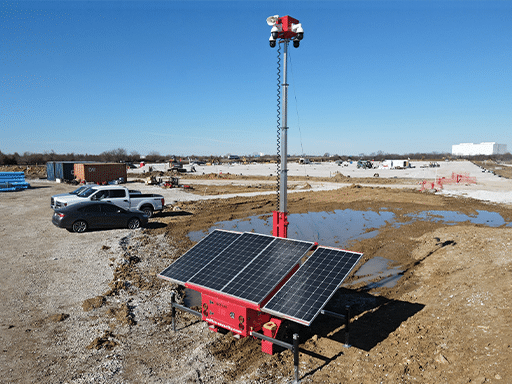 Construction Site Security Camera Rentals Houston
The importance of construction site security cameras is indisputable. Jobsite security is a massive concern with risks including theft, vandalism, trespassing, and injury. According to the National Insurance Crime Bureau, roughly 1,000 pieces of commercial equipment are reported as being stolen every month to the National Crime Information Center, and countless more go unreported. 
All this adds up to losses—massive losses in time and money. 
Because of this, if you are an area construction business owner or project manager, you are likely looking for Construction Site Security Camera Rentals in Houston.
Given the variety of serious challenges and risks, many Houston construction site owners and managers value the level of flexibility and security that Mobile Security Trailers (MST) provide. 
What Are Mobile Security Trailers? 
ESI's Mobile Security Surveillance Trailers are portable job site cameras. The autonomous video security units can be used in areas with no or limited power access, such as construction sites. When paired with 24/7 proactive video monitoring, the unit becomes a virtual guard, providing real-time live audio intervention. It is a cost-effective solution for short-term or long-term construction site security.
What are the Highlights of ESI's Houston Construction Site Security Camera Rentals?
Mobile Security Trailers provide many advantages for many businesses, but the solution is especially beneficial at construction sites, and other large, dark, or remote properties where human visibility may be low or where patrolling may increase risks to on-site guards. Because of the ability to use and combine technologies such as no/low-light video surveillance cameras, advanced analytics, and AI learning, you can identify threats, reduce false alarms, and deter crime more effectively while using fewer resources. 
Proactive Video Monitoring
Verifies intruders in real-time to reduce false alarms and increase response times to real threats. Live audio call-down significantly deters crime and provides support to law enforcement.
Solar-powered Units
Our autonomous, solar-powered construction cameras utilize 1200-watt and 900-watt solar panels, backup batteries, and optional self-starting generators. The units are durable, weather-resistant, completely customizable, and competitively priced.
Scalable Solution
Big or small, we've got you covered. Our  Construction site Mobile Surveillance Trailers are easily deployed, can go nearly anywhere, and provide an expansive 360° view of the site for a robust mobile solution unmatched in the industry.
Cost-Effective
The ESI Mobile Surveillance solution lowers your liability compared to other video monitoring solutions. Because it provides real-time response and can cover multiple areas at once more effectively and reliably, you will save an average of 80% compared to the cost of security guards.
Short or Long-term Construction Security Camera Rental
Whether short or long-term, Portable Jobsite Cameras offer a powerful and flexible solution. 
For the Best Construction Site Security Camera Rentals in Houston, Call ESI Today at 281-385-5300
ESI Fire & Security Protection is backed by over 20 years of industry experience. It provides complete security and fire protection services for businesses, organizations, government buildings, and restaurants throughout Houston and its surrounding areas.