Commercial Fire Extinguisher Maintenance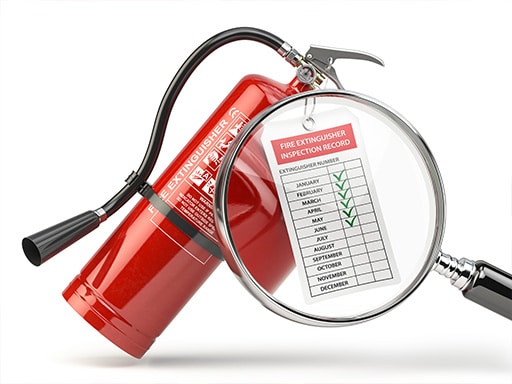 Typically, fire extinguishers become a fixture in the workplace. You see them, but you do not give them much thought. Fire is a threat in any business. While you may not think of fire extinguishers every day, they are your first line of defense in a fire emergency.
Portable fire extinguisher maintenance and inspection are essential. OSHA and state and local fire codes require having working extinguishers and having them tested regularly. 
What are the Risks of a Lack of Maintenance? 
Fire extinguishers will only work so long before needing recharging. If not properly serviced, they will not function during an emergency. That would mean a small fire will escalate to a large one, and it could also mean the difference between exiting a building safely or not. 
Fire Extinguisher Maintenance Requirements
Perform Monthly Visual Inspections
OSHA [29 CFR 1910.157(e) (2) requires that employers perform a monthly visual inspection of all fire extinguishers. 
Ensure it is still in the proper location

Look for visible damage such as cracks

Check the pressure gauge to make sure it is in operating range

Make sure the pull-pin is in place, and the seal is intact

Date and initial on the back of the tag to verify visual inspection
Maintenance Inspection
OSHA requires an annual inspection of all fire extinguishers performed by a professional fire protection company.  
Internal Maintenance Inspection
An internal maintenance inspection is required every 5-12 years, depending on the type of equipment. Professional fire protection companies perform these inspections to ensure the integrity of the equipment. 
While it is essential to follow all codes and regulations regarding fire protection equipment, maintaining your extinguishers helps ensure the safety of your employees and customers. If you have any questions about fire extinguishers or their care, please contact us today. 
ESI Fire & Security Protection is backed by over 20 years of industry experience. It provides complete security and fire protection services for businesses, organizations, government buildings, and restaurants throughout Houston and its surrounding areas.