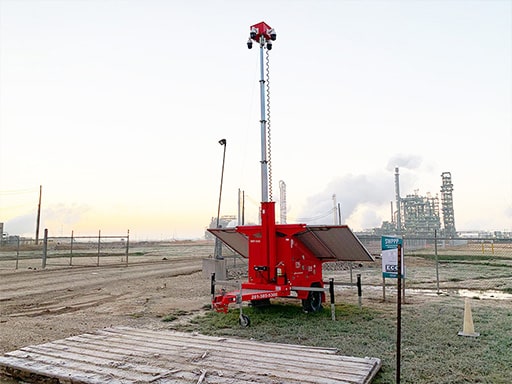 8 Powerful Uses For Mobile Security Trailers in Texas
Video surveillance is a proven security solution used widely to improve security, deter crime, and provide situational intelligence. Mobile Security Trailers have made it possible to take video surveillance to remote, challenging, or temporary sites and leverage the same benefits. 
What Are Mobile Security Trailers? 
ESI's Mobile Security Surveillance Trailers or Mobile Surveillance Trailers are portable job site cameras. The autonomous video security units can be used in areas with no or limited power access, such as construction sites. When paired with 24/7 proactive video monitoring, the unit becomes a virtual guard, providing real-time live audio intervention.
Top Uses For Mobile Security Trailers
1. Construction Sites
Construction sites are a prime target for intruders. Sometimes it may be just curious investigators. Other times, it can be others with the intent to take materials or cause damage. Typically, it is difficult to use traditional fixed video surveillance at construction sites because of the lack of power and the temporary nature of the site. 
2. Equipment Yards
Whether on construction sites, a separate site, or an equipment rental site, any place that stores large equipment is a high target for crime. Criminals know that the equipment is valuable, often left unattended, frequently has poor locks, and not all are required to have VINs so it can be difficult to identify and recover. Mobile security trailers solve the challenges with their ability to be used anywhere and powerful crime deterrence with remote voice-down intervention. 
3. Outdoor Events
Concerts, festivals, fairs, and other outdoor events draw a large crowd and need security. Security guards can help provide criminal deterrence but can't be everywhere at once and do not have a 360-degree view of the area. Mobile security surveillance trailers have 30-foot tall poles with cameras mounted to them. This provides a bird's-eye, 360-degree view of the event. 
4. Demonstrations, Rallies, and Protests
By nature, protests can be volatile. The presence of mobile security trailers can help keep the situation under control and provide important information to authorities should things start to get out of hand. 
5. Car Dealerships
Like equipment yards, car dealerships have large and remote lots with valuable stock in the open that may be unattended during off-hours. Not only are the cars valuable, but so are many of the parts. This makes dealerships a huge target for crime. Mobile Security Trailers solve the problem with remote surveillance and immediate audio intervention capabilities. 
6. Schools
School security continues to be a challenge in our nation, and while no one solution can do it alone, Mobile Security Trailers can add an additional layer of deterrence and awareness to school security. 
7. Churches and Places of Worship
Churches and places of worship are often targets of vandalism and violence. Mobile Security Trailers can provide critical insights and criminal deterrence when used on site. 
8.Protected Wildlife Sites
Mobile Security Trailers have been used to help deter unwanted or criminal activity at protected nature sites. The technology can prevent poaching and track wildlife populations.  
ESI Fire & Security Protection is backed by over 20 years of industry experience. It provides complete security and fire protection services for businesses, organizations, government buildings, and restaurants throughout Houston and its surrounding areas.