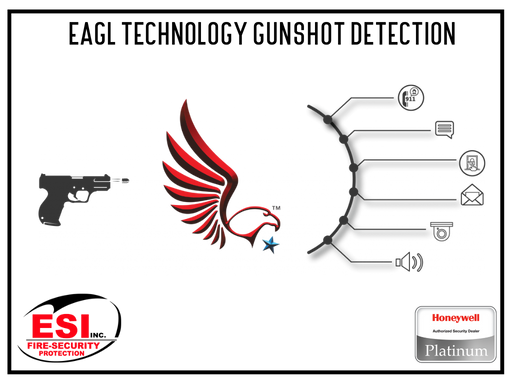 Learn how the EAGL Technology Gunshot Detection system can help keep your property safe and protect lives. 
Keeping people safe in public spaces has become increasingly important as gun violence rates continue to climb. The EAGL Technology Gunshot Detection System is a state-of-the-art solution that helps to improve the safety of any shooting-prone environment by detecting the sound of gunshots, classifying them, and alerting authorized personnel. Whether it's a school, a hospital, a government institution, or a business, the EAGL Technology Gunshot Detection System provides real-time actionable information that can help save lives and property. Gunshot detection systems have proven to be an effective tool in many municipalities. These systems are faster and more reliable than relying on 911 calls, especially in areas where people may be hesitant to contact the police. 
How Does the EAGL Technology Gunshot Detection System Work?
The EAGL Technology Gunshot Detection System uses advanced algorithms to detect the sound of gunfire and immediately alert authorized personnel. The system features sophisticated sensors and a central processing unit that work together to detect, classify, and communicate the presence of a gunshot. Once the system identifies the sound of a gunshot, it forwards that data to a cloud-based server, where all the information can be analyzed and alerts are sent to responders or security personnel within seconds.
What Makes the EAGL Technology Gunshot Detection System Stand Out from Other Competitors?
One of the distinguishing features of the EAGL Technology System is its ability to distinguish real gunshots from other noises that may be heard in an environment. The system is designed to filter out such sounds as firecrackers, backfires, and even slamming doors and breaking windows. Moreover, the system provides real-time data on the location, time, and nature of the gunshot, giving responders actionable information to help them make faster, better-informed decisions. EAGL Technology has been recognized by ASTORS, the preeminent U.S. Homeland Security Awards Program highlighting the most cutting-edge and forward-thinking security solutions five years in a row.
What are the Benefits of Using the EAGL Technology Gunshot Detection System?
In 2021, the most recent year for which complete data is available, 48,830 people died from gun-related injuries in the U.S., according to the CDC. The EAGL Technology Gunshot Detection System offers several benefits to public spaces where gun violence is a potential threat, including:
Improved public safety: By detecting gunshots and alerting responders in real-time, the system can help to minimize the risk to people and property in public places.
Faster response times: With the system, security personnel can receive alerts in seconds of a gunshot being detected, enabling them to take appropriate action immediately.
Enhanced situational awareness: The system provides detailed information on gunshot incidents that help responders navigate the situation and distinguish between ongoing and past events.
Cost-effective technology: EAGL Technology Gunshot Detection System is a cost-effective technology solution that can help to reduce security personnel time and costs of dealing with gunshot detection manually.
What Are the Security and Privacy Measures of the EAGL Technology Gunshot Detection System?
EAGL Technology is committed to ensuring the privacy and security of all user information. The system captures only acoustic signatures of gunshot sounds, meaning no footage is captured, and there is no facial recognition or personal identification information collected. All data is encrypted and transmitted using secure protocols, ensuring the privacy and protection of sensitive data.
ESI Fire & Security Protection, an EAGL Technology Dealer, is one of three Honeywell Platinum dealers in Texas and is backed by over 20 years of industry experience. It provides complete security and fire protection services for businesses, organizations, government buildings, and restaurants throughout Texas and surrounding areas. Contact us today to see how ESI Fire & Security can help secure your organization.