Construction Site Vulnerabilities Have Grown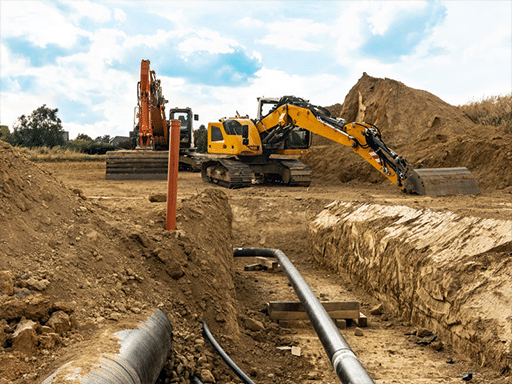 Though construction is considered an essential business in many areas, the industry has still experienced some significant challenges surrounding security. According to the National Equipment Report, 21% of construction sites experience theft on a weekly basis. Since the COVID-19 crisis, theft rates have soared an estimated 50% as sites have experienced shutdowns, delays, and diminished personnel on the site, as reported by the Construction Enquirer.
The construction industry involves the storage and ongoing use of high-value vehicles, tools, machinery, materials, and fuel. All of these have a high resale value, making construction sites an attractive and profitable target for criminals.
Mobile Security Trailers Address Construction Security Challenges
Now, additionally faced with canceled projects, supply chain disruption, and other short-term issues causing their site to be vulnerable, construction sites are having to reconsider their security. One of the top options to address these vulnerabilities are Mobile Video Surveillance Security Trailers.
The Right Security Solution is Imperative
While theft is always a huge consideration, any unlawful entry on a construction site can lead to the creation of serious safety hazards. For example, equipment vandalism can make them unsafe to use or the theft of fuel can cause dangerous fuel spills.
Criminal activity as the result of unauthorized entry into a construction site poses several overall threats to:
Operations
Property and materials
Life
Operational costs
Liability
The Problems with Many Common Security Solutions
Many construction sites have a strong dependence on on-site guards. While guards do provide many advantages, the solution also has some security deficits.
Security guards are susceptible to:
Fatigue
Inattentiveness
Intimidation
Bribery
Can only be one place at a time
Have a limited view
Traditional Video Surveillance
Difficult to cover the entire site at once.
Sites are in a constant state of flux with areas needing a greater or lesser degree of monitoring changing as the job progresses
Jobs are long-term but temporary and have varying degrees of access to power
Traditional video surveillance can be impossible or cost-prohibitive
Top Advantages of ESI Mobile Security Trailers
Proactive Video Monitoring verifies intruders in real-time to reduce false alarms and increase response times to real threats.
Cameras on masts provide a 360° view of the site
Solar-powered units ensure your site is protected day and night.
Autonomous units can be easily moved around the site.
Swift deployment
Short or long-term temporary solution
Completely customizable solution
Cost-effective
Effective crime deterrence
With
ESI Fire & Security Protection
Mobile Security Trailers, you don't need to worry about powering the units, monitoring the cameras, or the high cost of security guards. All you need to do is call us and we take care of the rest! With over 20 years of experience in business security, we understand your security challenges and meet them with the most effective solutions.
Call us today at 281-385-5300 or 
Contact Us
 through the website.