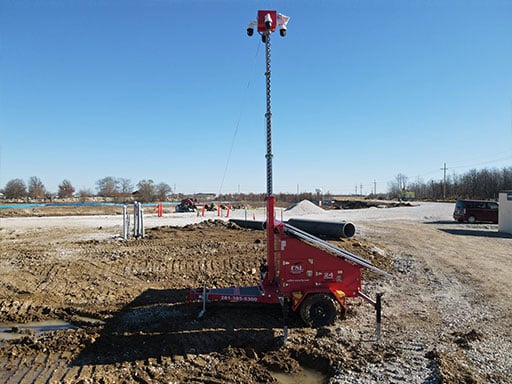 Construction Site Security Camera Rentals Houston | Construction Inflation
Amid inflation, construction site security camera rentals in Houston have never been more critical to the industry and protecting profit margins. 
Although the economy has strengthened in the past few months and appears to be headed for further growth, the construction industry has experienced a much more difficult recovery. A combination of supply chain issues, steeply rising material costs, and nearly stable bid prices have pushed some firms to the breaking point.
As an example of this struggle, if a contractor submitted a fixed-price bid based on materials costs at the time of the bid but did not buy materials until six months to a year later—a common industry practice—the cost for the materials could have risen as much as 24%. Since materials often represent 50% or more of the costs, the steep rise in the price of materials can quickly eliminate profit margins.  
Recent government data sheds light on this. The Producer Price Index for construction climbed 22% last year. The most shocking numbers ranged from 42% for fabricated structural metal products, 87% for iron and steel, and 127% for steel mill products. Softwood lumber prices spiked almost 24% in December alone. 
Preventing Construction Site Theft
The result is an all-too-real lesson in basic economics: lumber's low supply and high demand have increased its price by more than 300% since April 2020. That makes it an attractive asset on any thief's wish list. Construction materials are valuable, easy to steal, and even easier to sell. Because of this, construction site security cameras are essential to securing the property, protecting materials, and avoiding unnecessary loss. 
Top Advantages of Construction Site Security Camera Rentals
Deploying mobile surveillance trailers as security and asset protection at construction job sites offers many advantages. 
Readily Available 
ESI Inc. is Houston's leading provider of autonomous and mobile live video surveillance monitoring trailers, with units ready to be delivered and deployed immediately. 
Swift Deployment
It takes only moments to install Mobile Security Trailers at your job site, and they can be moved easily as the site develops and needs change. 
Perfect for Remote Sites or Limited Power Access
Since Mobile Security Trailers have completely autonomous powering, they can be installed practically anywhere and even under the most challenging conditions, providing immediate security without any infrastructure requirements for power or video transmission.
Can Be Used Short or Long-term 
Construction site security camera rentals can be short or long-term, depending on your need. 
Improved Visibility
Since systems are mobile, they can be moved and positioned anywhere to increase visibility and reduce any blindspots. 
Proactive Video Monitoring Deters Crime
Proactive video monitoring stops crime before it happens with professional monitoring and crime intervention specialists who provide real-time call down to deter suspicious or unwanted behaviors. 
Evidence for Law Enforcement and Insurance
In the event of a crime, mobile construction site security cameras provide easily searched evidence of the crime.
Versatile
Mobile security trailers provide high levels of versatile security. They can be moved as your needs change and can utilize features such as no/lowlight cameras, LPR, live monitoring, and audio intervention. 
Reduced Risks for Standing Guards
Whether used to replace or to support standing guards, construction site security cameras reduce risks to on-site personnel. 
24/7 Security 
Construction site security camera rentals provide 24/7 guarding without compromise. They never need breaks and are not subject to shift changes, fatigue, or inattentiveness. 
Improved Safety with Remote Site Audits 
Video surveillance provides a way to perform remote site audits to ensure that everyone on site observes safety practices and complies with regulations.
Scalable Solution
Big or small, we've got you covered. Our Mobile Surveillance Trailers are easily deployed, can go nearly anywhere, and provide an expansive 360° view of the site for a robust mobile solution unmatched in the industry.
Cost-Effective
The ESI Mobile Surveillance solution lowers your liability compared to other video monitoring solutions. Because it provides real-time response and can cover multiple areas at once more effectively and reliably, you will save an average of 80% compared to the cost of security guards.
Need Construction Site Security Camera Rentals  Houston? Call ESI Today at 281-385-5300
ESI Fire & Security Protection is backed by over 20 years of industry experience. It provides complete security and fire protection services for businesses, organizations, government buildings, and restaurants throughout Houston and its surrounding areas